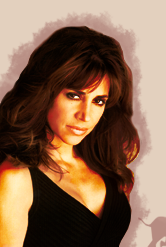 Darcy DeMoss Biography
Growing up in the Hollywood Hills, Darcy DeMoss has come full circle! From being raised on movie sets, to being a professional dancer/ choreographer as a kid, she filmed her first commercial at the age of 15 launching her to a full career as an actor for over 30 years.

Darcy's professional dancing launched her career as the provocative Aerobicise  Girl in the early 1980's.  Who can forget that red leotard!  After working with little known Director Brian DePalma on "Body Double", she took off full steam ahead, working incessantly doing cult classics such as "Hardbodies" and "Friday the 13th Part VI" where Darcy is famous for having the longest fight scene with Jason!  After a quick semester with the "Reform School Girls" and after her "Return to Horror High" with then unknown George Clooney, Darcy transformed herself  in to Patty in the world famous movie, "Can't Buy Me Love" which just so happens to star Dr. Mc Dreamy when he was still just Patrick Dempsey!   Television work also kept Darcy busy appearing opposite teen heartthrob John Stamos in "Full House" to working with Brat Packer Molly Ringwald in "For Keeps", and even playing Peter Brady's girlfriend in "The Brady's"!  Not a second went by before Darcy was hired for "I know My First Name Is Steven", a true story about a young boy who was abducted and raised by his kidnappers.   It was almost impossible to juggle a TV and movie career at the same time, but the on fire Darcy DeMoss did it all.  She bounced from movies such as "Coldfire", "Living To Die", and "Vice Academy 3" to portraying Randi Banks, the scintillating fitness trainer on the sizzling episodic series "Eden".  Darcy rest stop from series television included a few episodes of "NYPD Blue", "Hardball", and the delicious "Erotic Confessions".  Darcy 's stint as a teenage zombie in "Nightlife" prepared her to be abducted in the steamy  Sci-Fi thriller, "Alien Abduction".  Once again it was back to TV in the famous episode "Fire at Riffs" in the even more famous series "Mad About You", starring her childhood best friend, Helen Hunt.  Darcy's inner self had a need to take a quick jaunt to Australia to swim with Flipper in the made for TV series, "Flipper 3".  A couple more movies such as "Starcrossed", "Made In Brooklyn", and "Labor Pains" with Lindsey Lohan reminded Darcy that she wants to continue her lengthy career as an actress but to also fulfill her life long dream of creating, traveling the world and giving back to those less fortunate. 

Acting took Darcy all over the world, and fueled her passion for travel and exotic wildlife. Having such a vast knowledge of the camera, she experimented with being behind the lens. After her first safari, it was clear to all who had a chance to see her work that her talent of photography shouldn't take a back seat. It paved the way for more safaris where she documented some of the most amazing wildlife on the planet. Darcy then became a professional photographer and has had her work exhibited in several galleries in the Los Angeles Area.

At last, Darcy is in a place where she is able to give back for being fortunate enough to have lived the incredible life she has lived! She works intimately with Tippi Hedren and is on her advisory board, working with the animals of Shambala and the ROAR Foundation. Her humanitarian effort to the preservation of all endangered species has given her the opportunity to help in the plight of people and animals worldwide. She has been and continues to be committed to making a difference to some of the most needed and unloved places in the world.

In "Race 4 Humanity" it is clear that Darcy's intentions, what she stands for and ultimately, what she is able to make happen in the world around her is uniquely different, and is something we who know her, are very excited about. Darcy is a visionary, is able to foresee the best of a situation and pulls together all her resources to get the job done. It is and experience you will never forget.